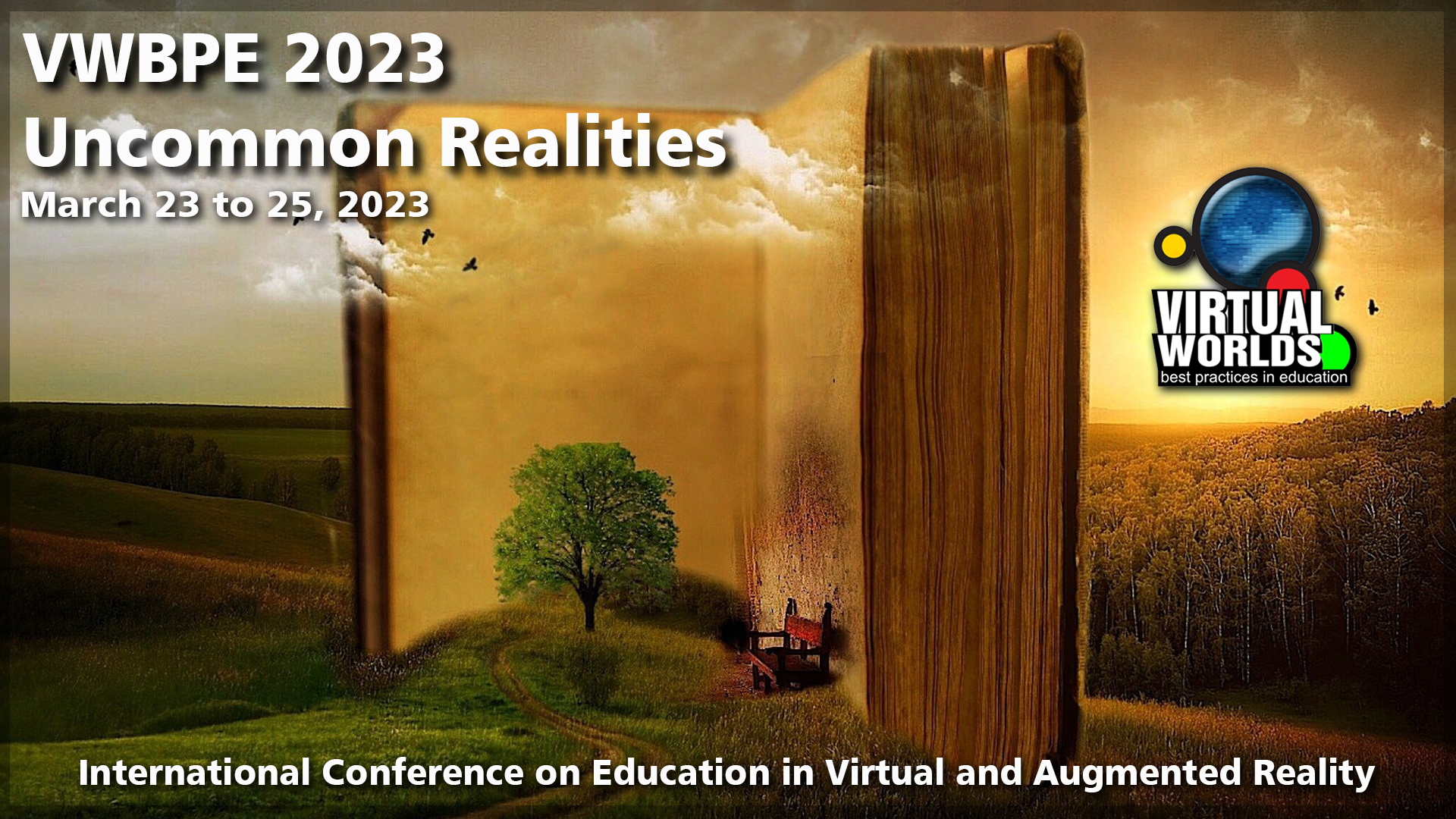 The 2023 Virtual Worlds Best Practice in Education (VWBPE) conference takes place between Thursday, March 23rd and Saturday March 25th, 2023 inclusive. A grass-roots community event focusing on education in immersive virtual environments, VWBPE attracts 2200-3500 educational professionals from around the world each year. It's primary goals are to foster discussion on, and learning about educational opportunities presented through the use of such virtual spaces, a defining core values and best practices in doing so, including:
Helping to build community through extension of learning best practices to practical application of those ideas and techniques;
Providing networking opportunities for educators and the communities that help support education; and
Offering access to current innovations, trends, ideas, case studies, and other best practices for educators and the communities that help support education.
In the context of the conference, a "virtual environment" is an on-line community through which users can interact with one another and use and create ideas irrespective of time and space. As such, typical examples include Second Life, OpenSimulator, Unity, World of Warcraft, Eve Online, and so on, as well as Facebook, LinkedIn, Twitter, Pinterest or any virtual environments characterised by an open social presence and in which the direction of the platform's evolution is manifest in the community.
Each year, the event has a central theme, which for 2023 the organisers describe thus:
Our theme for the VWBPE 2023 conference explores the concepts behind our Uncommon Realities. Learning from each other's perspectives in how we visualize challenges, the skills we bring to bear in working through alternatives, prototyping solutions, and the personal meaning we find in interpreting the results of our efforts.

We face unparalleled challenges in the world today. Embracing our uncommon realities can be a source of inspiration to bring people together. To tell our own stories. To show people our strengths. And to inspire others to not be afraid of being different. More importantly, it allows us to explore a profusion of ideas we may never have thought of if not for our willingness to share and be seen.

– From the introduction to VWBPE 2023
Programme
As with previous VWBPE conferences, this year's event includes speakers, workshops, presentations, social activities and more.
The best way to find out what is going on over the three days of the conference is through the VWBPE programme page,  However, here are some of the highlights of major events (note: all times SLT and held at the main auditorium unless otherwise stated):
Thursday March 23rd:

08:00-08:50: Kick-off event at the VWBPE Gateway.
09:00-09:50 SLT: Keynote address – Dr. Tom Boellstorff  (Tom Bukowski in SL): Making the Metaverse a Common Reality.
12:00 Noon-12:50: What's Up at the Lab? With Grumpity and Patch Linden.
13:30-14:00: The VWBPE Parade, commencing at the VWBPE Gateway.

Friday March 24th:

08:00-08:50 SLT: Keynote address – Dr. Stylianos Mystakidis (Stylianos Ling in SL), Hellenic Open University, Greece: Metaverse: Pandora's Pithos or Panacea for Education? 7+1 Uncommon Truths about the Edu-Metaverse.
12:00 Noon-12:50: Keynote address = Alexandra Humphreys (heddwen1 in SL): Playing with Reality: Gamifying Education in the COVID-19 Pandemic.

Saturday March 25th:

18:00-19050 SLT: Closing ceremony.
If you cannot get in-world to attend any of these or the other major talks and presentations at the conference, note that you can watch them via You Tube – check the VWBPE website for the full schedule of live streams.
Region Themes and Facilities
For 2023, the conference returns from space, where it has been for the past couple of years, to a more Earthly setting, presenting a series of biomes in which events will be held and people can explore and play. These comprise:
Canopy Biome (Canopy Point): a canopy biome is a forestry ecosystem characterised by a dense layer of vegetation at the top (the canopy), under which can be found a diverse forest ecosystem.
Rainbow Basin: an ecosystem found within a basin or depression within the Earth's surface, often characterised by wetlands, rivers, lakes, with the environment ranging from dry through to very wet.
Jungle Habitat: a tropical forest environment generally characterised by high levels of rainfall and warm, humid temperatures. These are often among the most biodiverse ecosystems on the planet.
Meadow Biome (Floating Meadows): a meadow biome is characterised by a mix of forest and meadow habitats, generally in temperate zones with moderate temperatures and rainfall.
The four regions form a square and feature the main auditorium straddling there adjoining corners. They are supported by:
Grasslands Biome – home to the VWBPE Gateway.
Badlands Biome (Badlands Wild): badlands are characterised by their rugged, eroded landscape, featuring ravines, canyons and buttes. They tend to be semi-arid in nature. Here they are also home to the Rock Theatre Workshop.
Wetlands Marsh: an ecosystem characterised by a combination of shallow water, emergent vegetation and saturated soils. Here they are also home to several of the VWBPE social venues.
Desert Hinterlands: a region receiving very little rainfall, resulting in a dry, arid environment, often with high daytime temperatures and very low night temperatures. Home to the Oasis Lecture Theatre and The Ruins Workshop.
Tundra Expanse: a cold, treeless biome form in the Arctic and Antarctic regions, characterised by low temperatures, strong winds and little precipitation and vegetation limited to shrubs, mosses, lichens and the like, the ground being generally frozen. Home to the Quadrivium and the Hearth Lecture Theatre.
The VWBPE Gateway
At the VWBPE Gateway you can find information on the conference – including the schedule for the day, a Swag Bag which includes the conference teleport HUD for easy access to all locations and venues, information on the biomes comprising the conference regions, and more. And, of course, VWBPE volunteers are on hand to answer your questions!
Core Facilities and Locations
Within these regions the following core facilities for the conference can be found – but please refer to your conference Swag Bag (and teleport HUD!) for full  information on all locations and facilities at this year's conference.
The Teleport HUD
As noted above, the VWBPE teleport HUD is the best way of getting around the facilities. It can be obtained via the Swag Bag giver at the VWBPE Gateway and is delivered to inventory in a folder. Open the folder and right-click → ADD the HUD. Note that you will need to grant teleport permissions for it to work.
By default, the teleport HUD attaches to the bottom left of the viewer window, with a single button – SHOW – available. Clicking this will expand the HUD to show:
Buttons for teleport to venues and locations within the conference regions. Click on these will either teleport you directly to the destination (Gateway and Lest We Forget), or open a sub-menu of destination options (e.g. Auditorium access points, talks and presentations venues, etc.).

Note that after being teleported to a location, the HUD will automatically minimise itself.

Four buttons to the right: visit the VWBPE website (VWBPE logo button); MAIN – return to the main set of teleport option buttons; HELP – receive a note card on how to use the HUD; HIDE – minimise the HUD.
To keep up-to-date with the conference, be sure to check the VWBPE website daily.
Additional Links