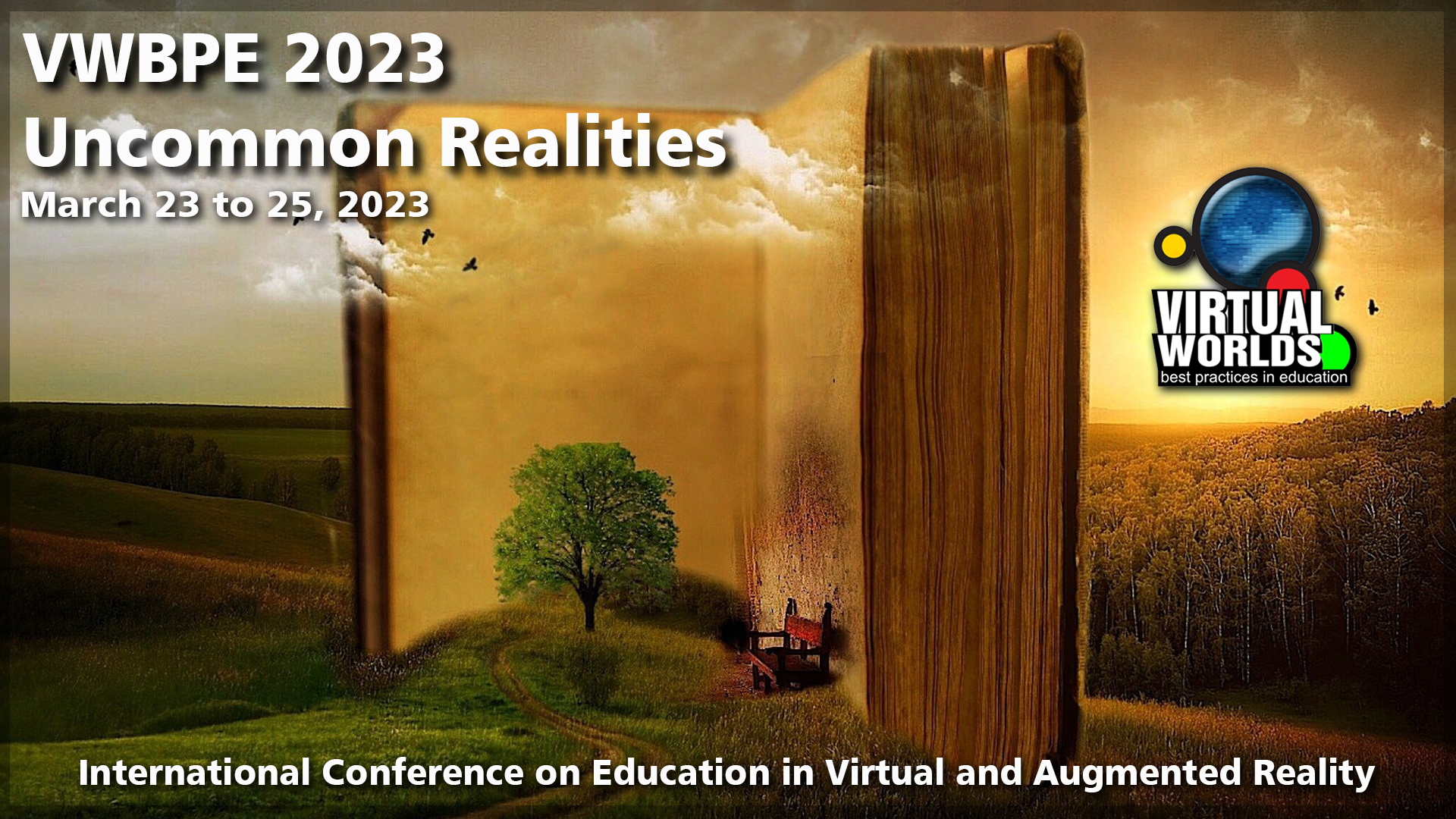 On Thursday, March 23rd, 2023 Grumpity Linden, the Lab's Vice President of Operations and Patch Linden, the Lab's Vice President of Product Operations, both of them members of the company's management team, attended the 2023 Virtual Worlds Best Practice in Education (VWBPE) conference to discuss Second Life.
The following is a summary of the session covering the core topics raised. The notes provided have been taken directly from the official video of the session, which is embedded at the end of this article. Time stamps to the video are also provided to the relevant points in the video for those who wish to listen to specific comments.
Notes:
This is a summary, not a full transcript, and items have been grouped by topic, so may not be presented chronologically when compared to the video.
Timestamps are included to allow a direct jump to a subject / comment.
A Little Background
Grumpity Linden: heads up Second Life Product team, where she has overseen a shift to growth, a stronger, more balanced economy, movement towards better community cohesion, and an overall forward-looking approach. She originally started at LL whilst working for The Product Engine, and was involved in the development of Viewer 2 (as designed by 80/20 Studio), prior to joining LL full-time in 2014. As the Vice President of Product, she is responsible for coordinating the various teams involved in bringing features and updates to Second Life, liaising with legal, financial and compliance to ensure features and capabilities meet any specific requirements in those areas, and so on; work which can involve looking at specifics within various elements of the overall SL product, such as UI design and layout, etc.
Patch Linden: originally a Second Life resident and business owner who joined the platform in 2004, and became a Linden in September 2007. He worked across a number of teams within the company – notably within the support and product spheres, and is responsible for developing the Land Operations team, and more recently setting-up the company's support office in Atlanta, Georgia. Since 2019, he has been Vice President, Product Operations.
The Environment at the Lab and Use of SL
A general discussion on working at L:inden Lab – the environment / atmosphere -, on how often Lindens log into SL (and how some specifically do so using alts as well as their Linden accounts), etc. Please refer to the first 15  minutes of the video for details.
Product Development Path
SL Mobile
See also: Lab Gab summary: Grumpity, Mojo & Patch – SL Mobile, land, bots & more, March 2023.
A re-iteration that LL are working on a fully immersive Mobile solution for both Android and iOS.
Limited feature set beta in development, aimed primarily at existing users rather than trying to support the New User Experience (NUX).
The first release will be "broad but shallow" – rendering the world, teleporting, using chat, with the focus on getting as high a quality of rendering as possible.

Dealing with user-generated content (in-world and worn on avatars) which is largely unoptimised for a run-time environment like Second Life has been a challenge on the rendering side.

Capabilities such as complex interactions with in-world objects, the inclusion of Voice and similar will be added over time as the app is iteration on and enhanced. However, streaming audio (music) is liable to be implemented ahead of any Voice support.
However, while the capabilities will be iterated on over time, Mobile is not intended to offer full parity in terms of functionally as the full viewer.
[Video: 47:38-48:36] The initial BETA release of the Mobile app will likely not be before the last quarter of 2023.
NUX and New Starter Avatars
See also: Lab Gab summary: Grumpity, Mojo & Patch – SL Mobile, land, bots & more, March 2023.
LL is working on improving the whole user on-boarding and new user experience (NUX) path for those coming into SL for the first time.
This work includes new "full mesh", one piece (head, body, hands, feet) avatars (previewed at SL19B), which will be supported by a full complement of clothing and accessory options
The NUX process will involve smoother on-boarding from the web (sign-up, etc.) and include viewer-side changes to make getting started with SL easier and more intuitive, and making it easier for those coming into SL to get a good start.
The first part of this work to surface is likely to be the updated sign-up workflow and on-boarding from the web (including selecting one of the new avatars and carrying out some customisation at that point – thus avoiding the need to get into the complexities of using Inventory, etc., within the viewer).
The second part of the work "later on" will simplify the avatar customisation process within the viewer, and it is hoped the third-party viewer community will build on this work as well.
The new avatars, coupled with the new on-boarding path, are seen as a mean for communities leverage / user SL to develop their own on-boarding paths using the RegAPI to bring their particular audiences / users into the platform.

This could potentially extend down to the level of communities providing specific outfits / clothing for the users they are bringing into SL (e.g. a selection of uniforms or similar for a military role-play group; t-shirts and hoodies with a school or college logo on them for an educational group, etc.).

This will be leveraged by Mobile so that users coming into SL via the Mobile option will be able to customise their avatars through the on-boarding process.
PBR Materials and Puppetry
See also: Lab Gab summary: Grumpity, Mojo & Patch – SL Mobile, land, bots & more, March 2023, my Content Creation User Group meeting summaries and my Puppetry Project user group meeting summaries.
The next set of capabilities to be deployed will be the Physically Based Rendering materials capabilities and reflection probes.

The core of this work is to support a new approach to material maps / surfaces either directly on products developed for SL by content creators or which can be used modify personal items and creations. They are designed to give objects a sense of physical world lighting and reflection, drawing on the Khronos glTF 2.0 specification.
This work represents a significant technical step forward in graphical rendering for SL (in the order of 10 years), and will take a step towards facilitating things like dynamic planar mirrors which can reflect avatars in-world (with some constraints around the capability).
Documentation and materials in support of the PBR Materials and reflection probes is in the process of being developed.

Animation imports is a project that is in the pipeline, but is currently more an offshoot of the Puppetry Project.
The Puppetry Project is in progress, but has expanded beyond the original outline, and can be regarded as "coming soon™". This work includes motion capture from devices as basic as a web camera, as well as potentially supporting more capable hardware, and broadcasting / streaming the results in-world in real time (so you can wave you avatar's hand, beckon someone – even potentially reach out and pick up an object, etc.).
More information on the PBR work and what follows it, and the Puppetry Project will be made available as this work continues.
SL20B – The 20th Anniversary
See also: SL20B: theme, music festival & performer applications, March 2023.
SL20B is anticipated as being a "very large event", given it is the 20th anniversary, with the event regions almost doubling in number.
When the exhibitor applications are opened, communities and groups from across SL are encouraged to apply and take part in the event.
As well as performances and entertainment, SL20B will open up for panels, talks and discussions, applications for which will also be opening soon.
Upcoming / Future Work
Translation tools
LL note that the current translation tools within the viewer are getting long in the tooth, so there will be a project to make sure they are properly supported. After that, it is hoped a project can be put together to move translation server-side. The specification for this work is still being developed internally at the Lab, and more details may be available for public consumption in the future.
Family Names
Linden Lab has long run a Custom Name Programme, allowing qualified users to pay for personalised avatar names.
This is being expanded to allow the introduction of a new subset of custom last names: Family Names.
Family Names will allow a user to purchase into a last name, and then elect / allow a certain number of accounts to use that last name.
This capability is something that has been requested by users, and is seen as having a number of use-cases.
Further information on Family Names will be made available as and when the capability is ready to be released.
Streaming Solution Option
Aside from the Mobile app, LL is looking at a streaming capability for Second Life (that is, running a viewer instance on a cloud server and streaming the results to a browser).
If developed, it would "come in at a more reasonable price-point" than past efforts (SL Go and Bright Canopy).
Even so, it would not be intended to be a means for day-to-day access to Second Life, but more something that could benefit specific communities / events / activities.
LL may well take further steps to solicit wider feedback on this idea.
General Q&A
Will there be a payable "lifetime account" option? "Maybe. Time will tell".
Is the Education Discount still available – Yes.
Will the new features being developed prevent users on older hardware from using SL? Not necessarily – although very , very old hardware may not be able to run some of the newer features, so may have to rely on "legacy" modes (where available).