The Oller Belair Art Gallery (follow the path across the covered bridge from the landing point), created and operated by Pencarrow Oller offers a venue for physical world artists to present their work within Second Life. In this, it presents an exhibition space that encompasses art by Pencarrow herself with artist in residence Layachi Ihnen, together with invited artist exhibitions and a monthly competition for physical world artists, the Unicorn Awards competition. For April, the invited artist is Uleria Caramel, whose exhibition Circular opened on April 3rd, 2020.
An abstract expressionist, Uleria works in a number of mediums: oils, glass painting, aquarelles, ceramics and photography. Her art combines colour and contrast, inspired by her own feelings and emotional reactions to the things and the worlds she observes; something that can give her art a particular depth of emotional resonance from observers.
This is particularly true for Circular, her exhibition within the Belair hall of the gallery. This series of works has, as their foundation, the on-going global crisis that is affecting us all, as Uleria noted to me when discussing the exhibition.
I was thinking, what would be this exhibitions theme, and the main thing in my mind has been this corona crisis on this Earth. So my vision started to grow from words like lifeless, rock, space, and round shapes like an Earth shape, the corona virus shape and round shapes in general. But I don't want to the virus theme into the foreground; if someone sees it, that's OK; if they see something else, that's OK as well.
This idea of a theme for the exhibition that is not in and of itself a driving force behind the images presented within it is clearly reflected in the selection process Uleria used for Circular. While the ideas of circles, spheres and round shapes and form that might contain elements suggestive of things like a virus is prevalent in all of the images she offers here, none of the pieces have been created specifically because of the foundational theme for Circular; rather, they are all pre-existing pieces drawn from Uleria's rich portfolio if past works.
This give Circular a layering of interpretation and emotional depth that is genuinely captivating; some of the pieces through colour, impression and shape offer very clear reflections of virus-oriented themes, from the idea of a viral invasion. Take Cell One, The Origins, and Drifting, for example, with the latter in particular perhaps bringing to mind oxygenated haemoglobin, so vital to aerobic respiration, offering an indelible link to the respiratory nature of the SARS-CoV-2 virus and the resulting Covid-19 disease.
Other pieces are more subtle in their connection to the thematic play of the exhibition, allowing us to view them entirely independently of that theme – although the threads of connection are there. Take the corner collection of mandala-like Kaleido images, together with Liquid Moon, for example.
These stand as pieces that engage the mind without any overt thoughts of illness or the like, yet within them are still thematic echoes: the Kaleido pieces offer both subtle suggestions of viral entities and of the interconnectedness we all share as a part of life that can enable their spread, while Liquid Moon can perhaps bring forth celestial thoughts on the cosmos around us and also suggestive of a single cell – the building block of life. Thus, these – and the other pieces presented here – mean that Circular can be viewed both as a social commentary for the times or purely as a retrospective of Uleria's remarkable art.
As noted, the gallery also features exhibitions by Pencarrow, who at the time of my visit was offering a display of abstract, flowing pieces inspired by haikus. Through their use of colour, these are expressive pieces, even without the words of the haiku which inspired them (these should be offered by touching an individual piece, although this was still to be set-up at the time of my visit), with the more slender pieces each suggestive of traditional Japanese scroll paintings, thus adding to the depth of the theme.
Deserving of a more expressive space in which to be shown, Pancarrow's pieces occupy the Oller hall / stairway leading up to the upper floor of the gallery, where Layachi Ihnen's always absorbing studies and portraiture can be found. These are presided over by the impressive multi-panel The Infinites, a study that wraps itself around three walls of the exhibition area to form an unfolding story.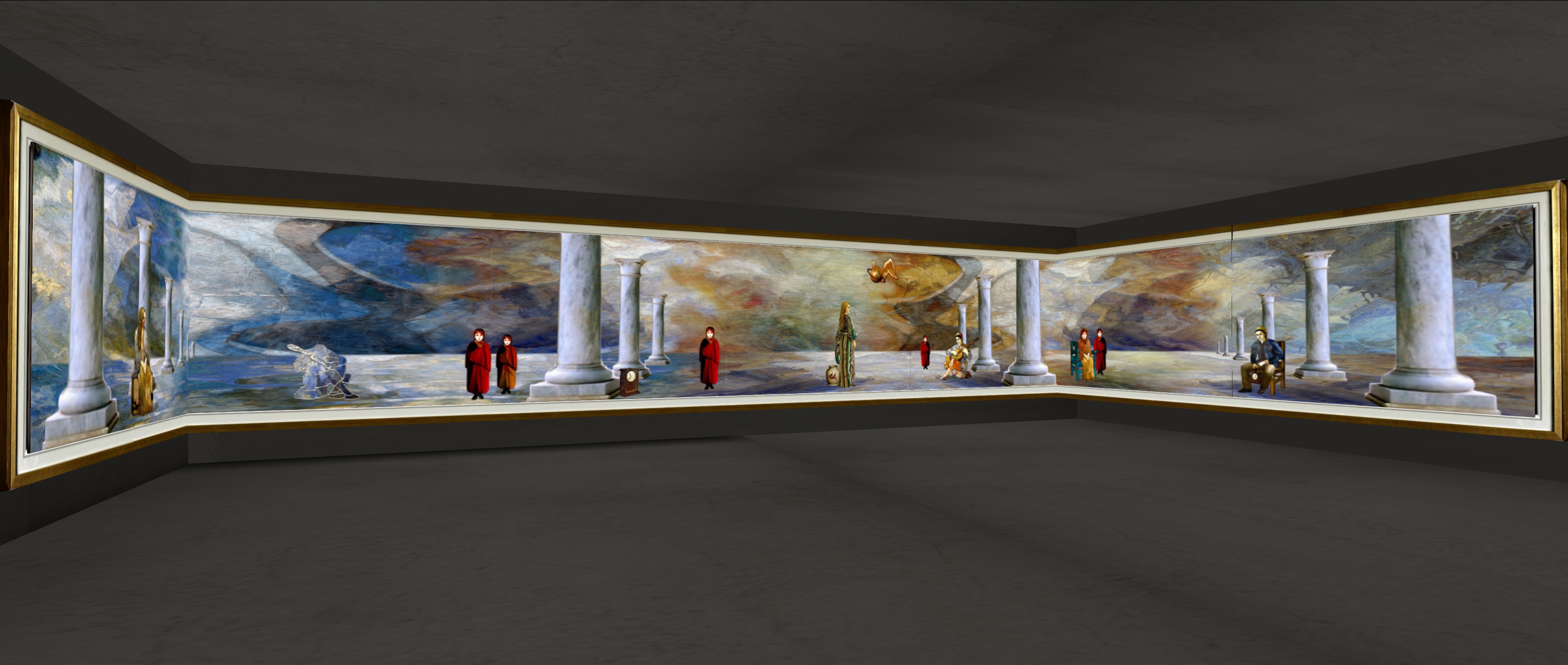 Provided for physical world artists displaying their work in Second Life, the Unicorn Awards is operated through the gallery, offering a prize pot of L$10K with art displayed in the Unicorn Studio hall. Each awards competition is themed, and details  can be obtained by setting foot in the Unicorn Studio or by contacting the gallery's manager, Airam79 Carami, in-world.
SLurl Details